Louisiana Black Drum Fly Fishing:
Louisiana black drum fly fishing is often overlooked by most anglers travel when travel to the Louisiana marsh. To many black drum are slimy, grotesque and lazy when compared to their bronze-colored, streamlined counterparts. Redfish get all the publicity and rightfully so, but their kin are also a worthy adversary on fly tackle. While redfish are generally the most favorable fish to target these prehistoric leviathans are provide a fun and challenging alternative on the flats of the Louisiana marsh.
Black drum are harder to feed than redfish. They can be picky eaters. Dark-colored crab or shrimp imitations seem to work best.
Fly placement and stripping cadence is of the upmost importance when targeting black drum. Low and slow is the mantra to follow. Drop your fly in front of them and allow it to sink to the bottom. Slowly bump the fly across their nose. Maintain contact with your fly at all times. The take is usually very subtle.
One surefire way to locate black drum is by finding flats adjacent to deep water with plenty of oysters. On high tide black drum will move out of deep water and root around shallow shell reefs often exposing their tails. There's no mistaking the big dark flag protruding from the surface that is a black drum tail. On warm, winter days we often find black drum "sunning" or "floating" on the surface in deeper water like big bull redfish.
In other saltwater fisheries black drum can be extremely hard to feed. The Louisiana marsh offers fly anglers the best chance to catch trophy black drum for those who have never caught one. For many anglers a monster black drum might be the largest fish they've ever caught on a fly rod. Think twice next time you shunned your nose at that big black tail waving at you off in the distance.
Louisiana Black Drum Fly Fishing Photos:
The photos below are some of the notable black drum we were able to convince to eat our flies this winter fly fishing the Louisiana marsh.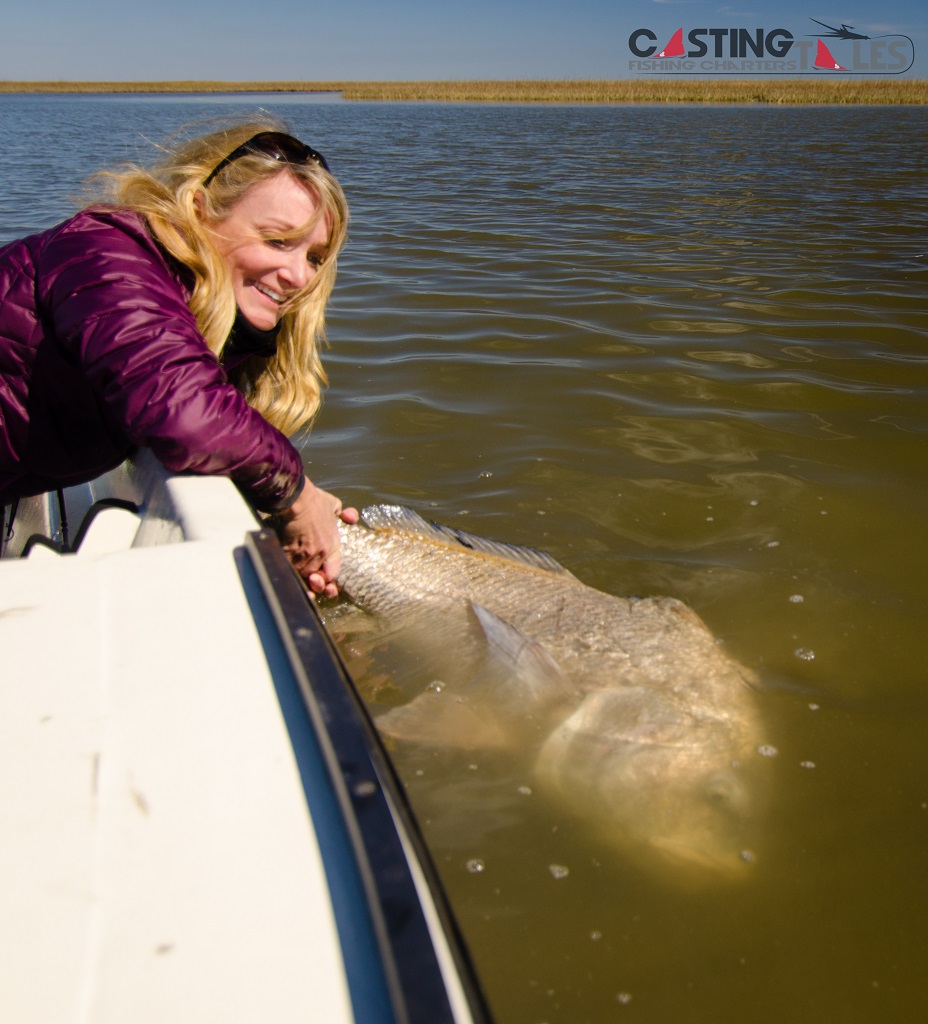 Meredith McCord releasing the pending IGFA World Record black drum.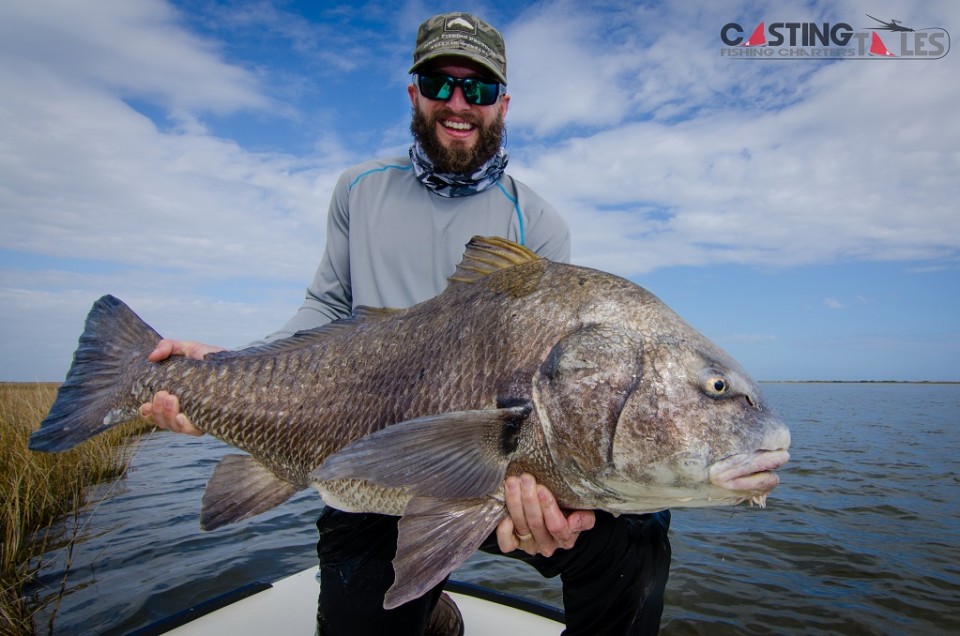 Todd Sebek with a monster 47-pound black drum.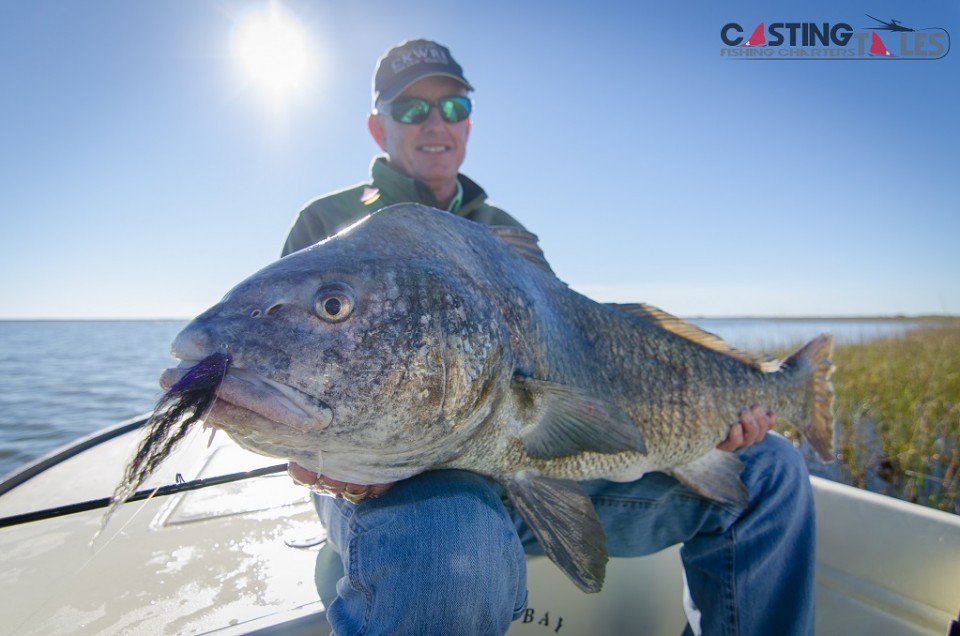 Troy Jessee with his first black drum on fly. This beast ate a accurately placed black and purple bull redfish fly stripped slow on the bottom.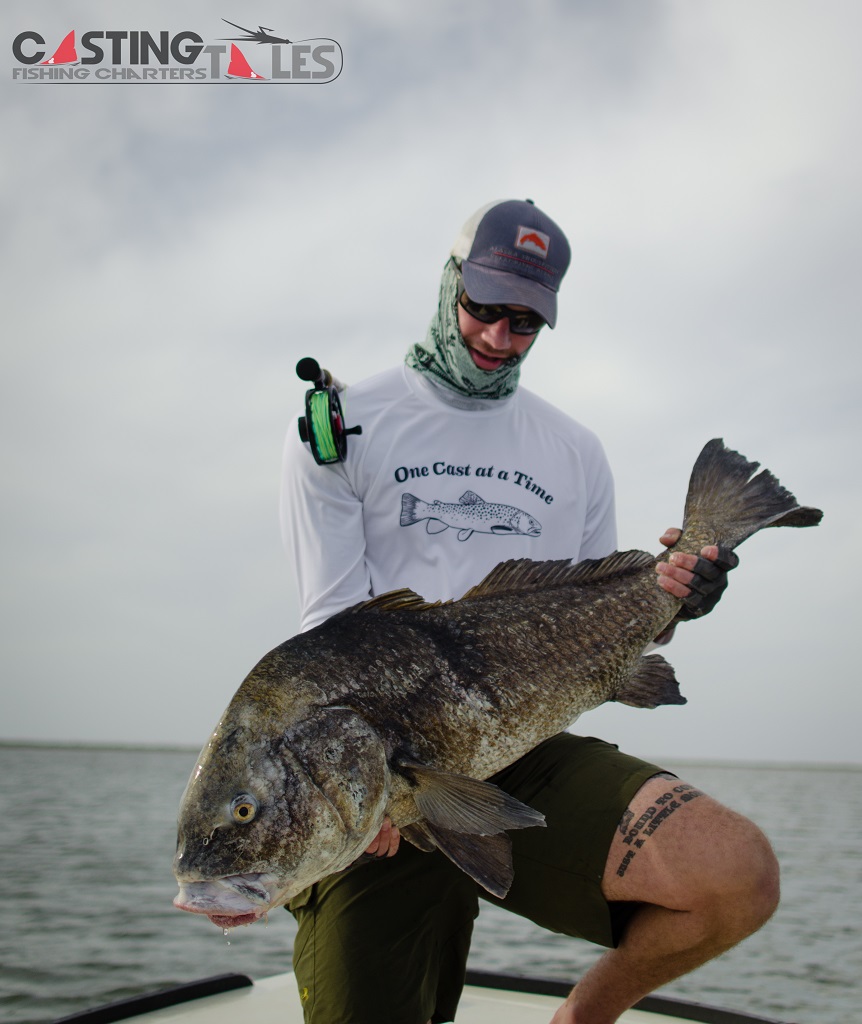 Mike Fisher landed a healthy black drum that was tailing on a cloudy day.