With day one in the books I was ready for an encore. Catching my first tuna and dolphin was a blast, but there was more fish to be caught.
The morning ritual started just as the day before, creating pancakes out of a 12′ wide monofilament, lead-weighted net.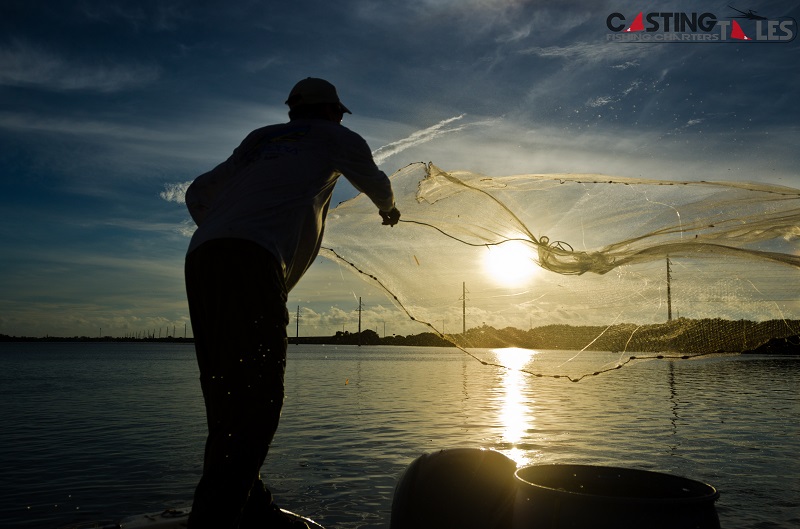 It only took a few throws before darkness fell on the both wells and we were on our way south towards the Gulf Stream.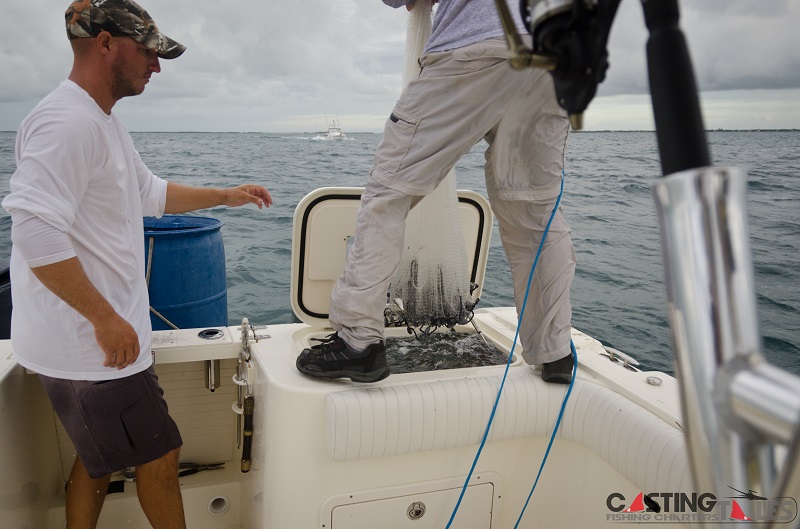 Anticipation grew as the waters of the Atlantic turned from turquoise to ink blue. True to form it didn't take Captain Brian Cone long to find fish. A few handfuls of live pilchards later, hordes of tuna were blitzing just behind the foam of the prop wash.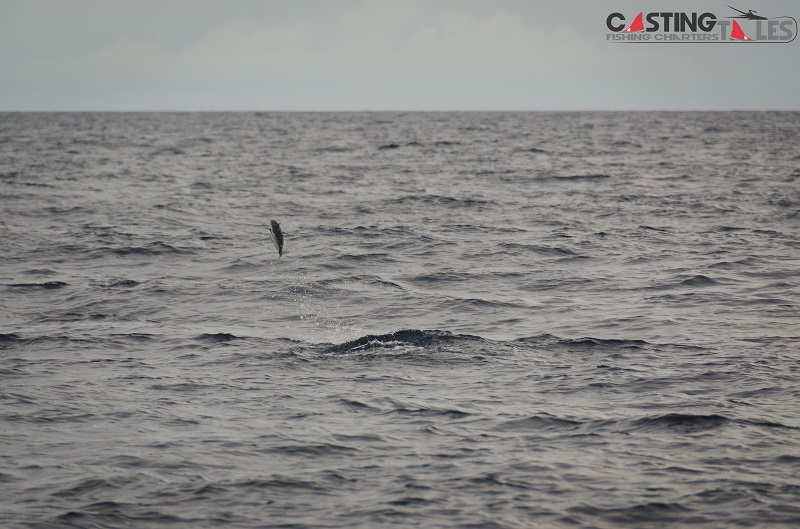 Everyone was hooked up shortly thereafter.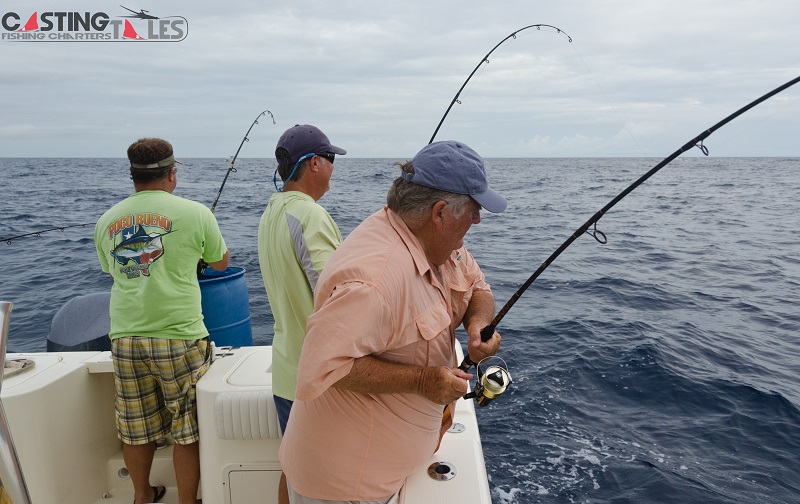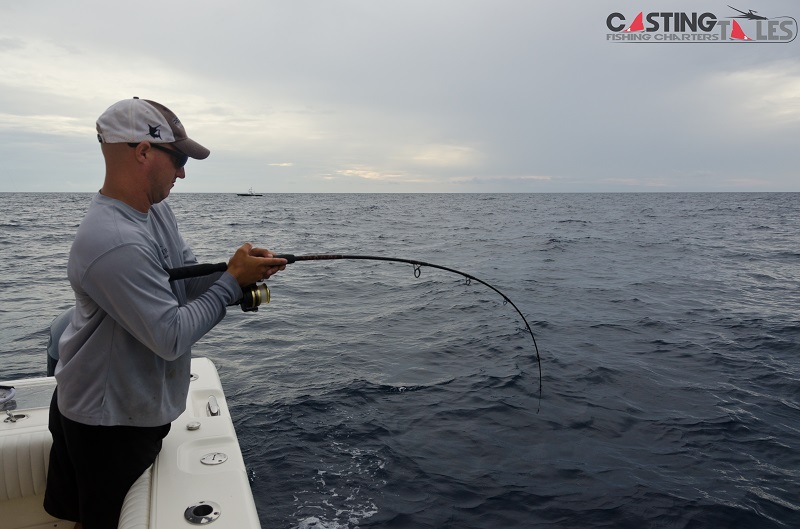 We had a celebrity sighing while fishing offshore. At the helm of a center console, aptly named Three Rings, was no other than Jimmy Johnson himself. He was fishing alone and had his fill of the action before the crowds showed up. At 70 years young I was impressed to see Jimmy out there alone. A testament to how much he loves fishing and being on the water.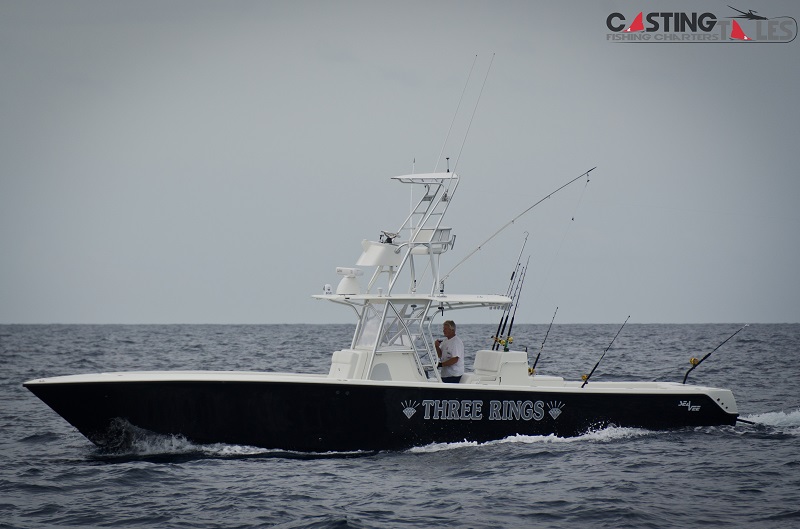 We stuck around a little longer, but after a rash of breakoffs we decided move locales to look for dolphin.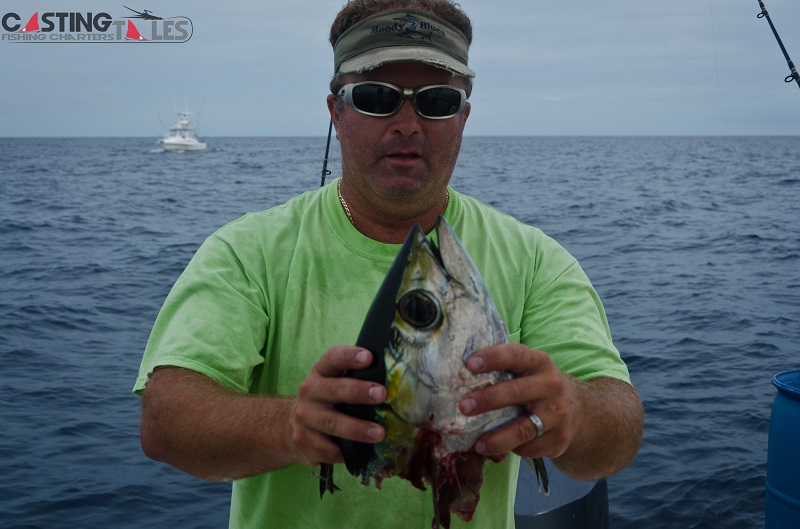 We checked a few weedlines and found dolphin lurking below at nearly every stop.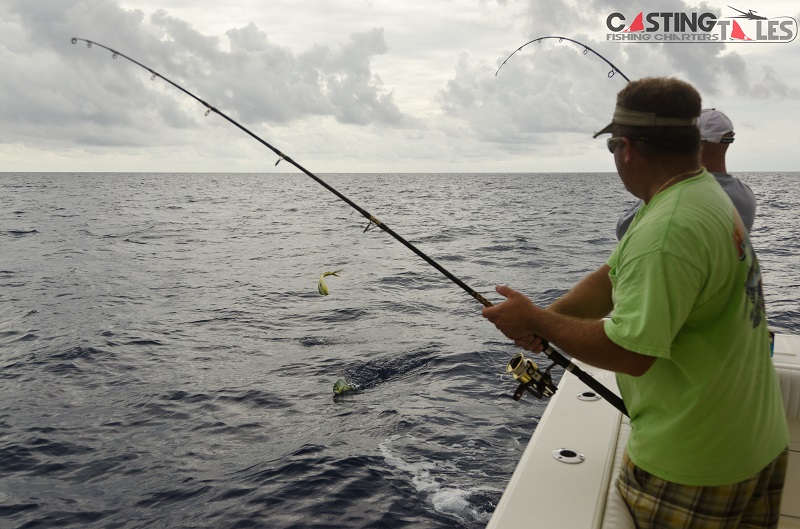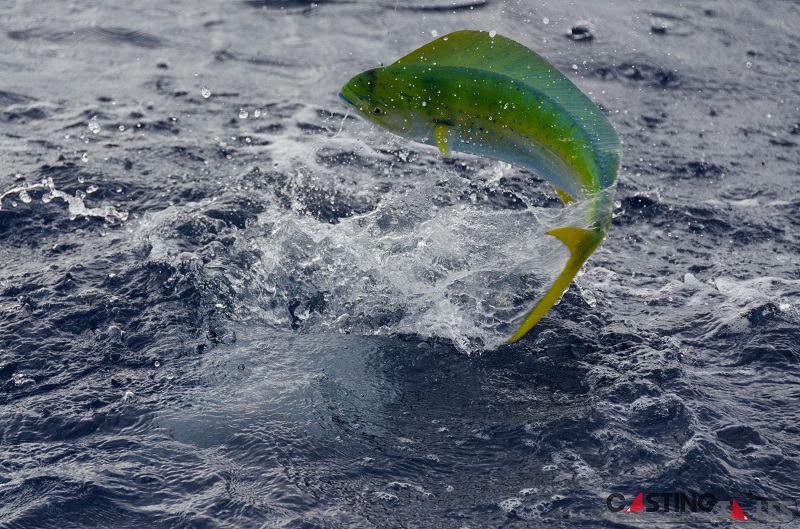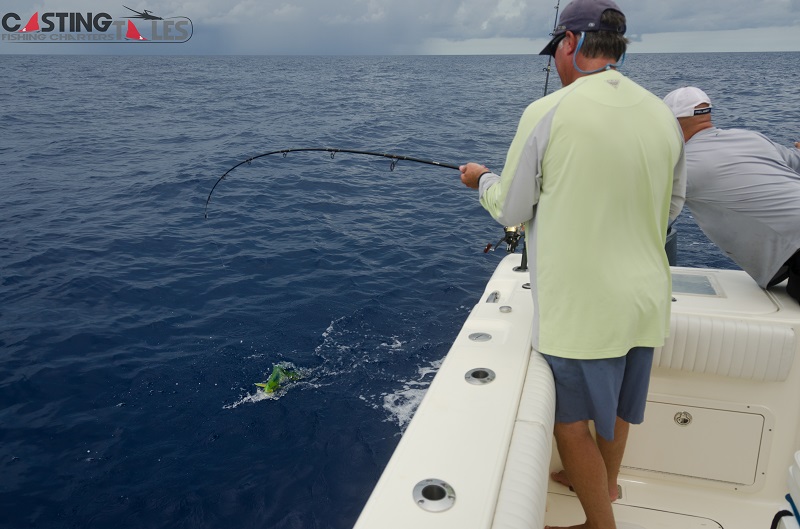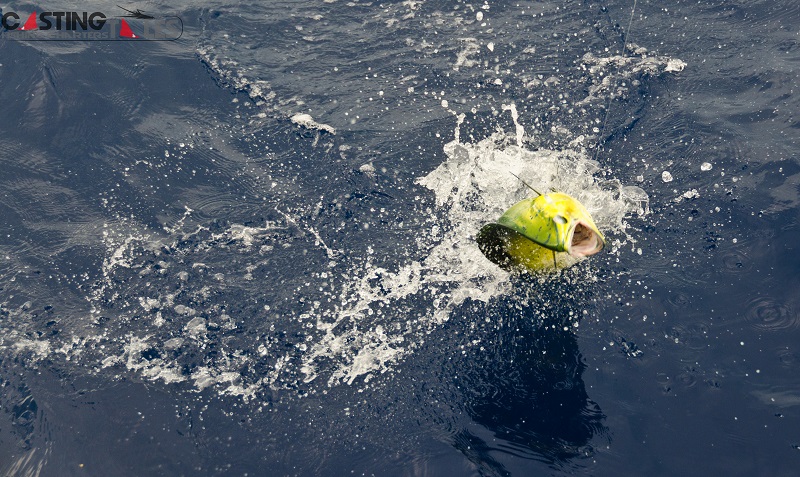 We also found a few small tripletail amongst the weeds.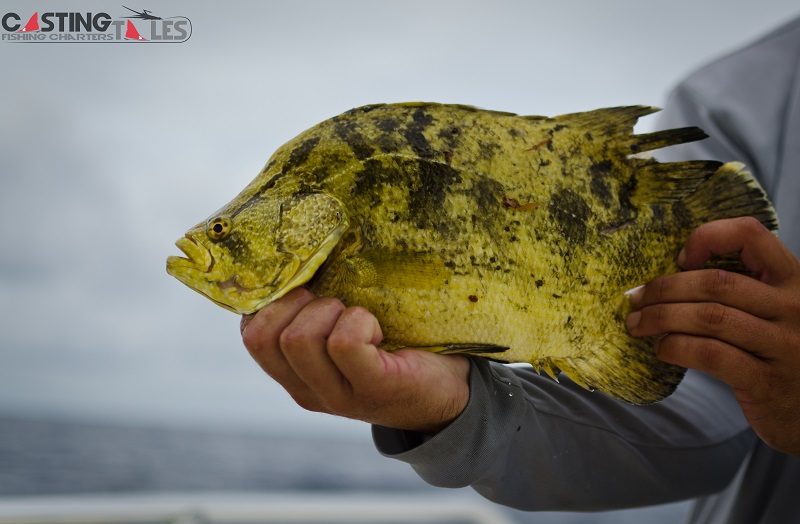 Back at Robbie's Marina Captain Brian Cone and deckhand Dan Naumoff changing lower unit oil, spark plugs and impellers after a day of fishing. You'd be hard pressed to find a harder working captain or deckhand in the Keys.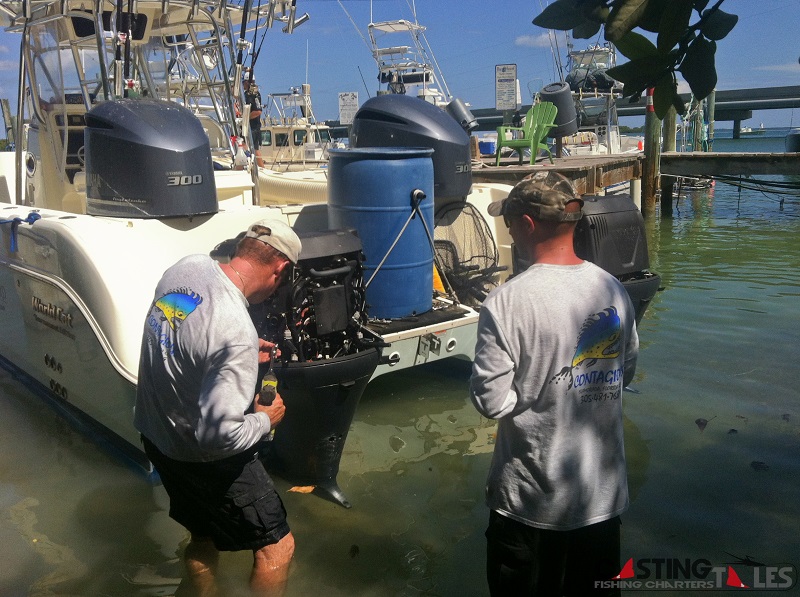 Robbie's pet tarpon.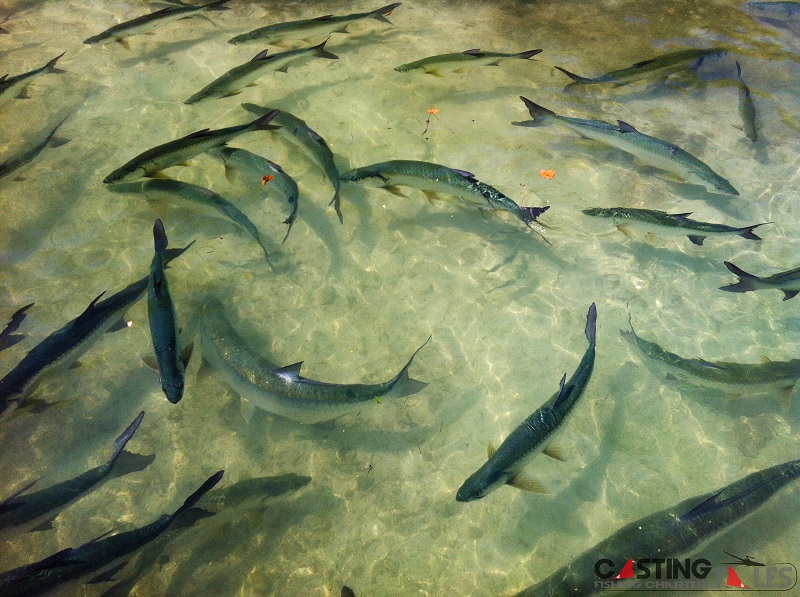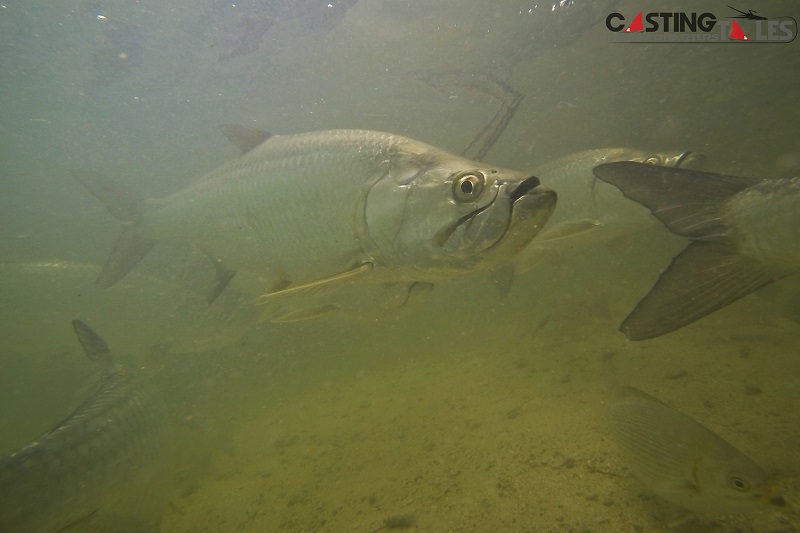 We had dinner at the Lazy Days in Islamorada to celebrate a couple days of great fishing. Appetizers consisted of seared tuna we had caught earlier that day.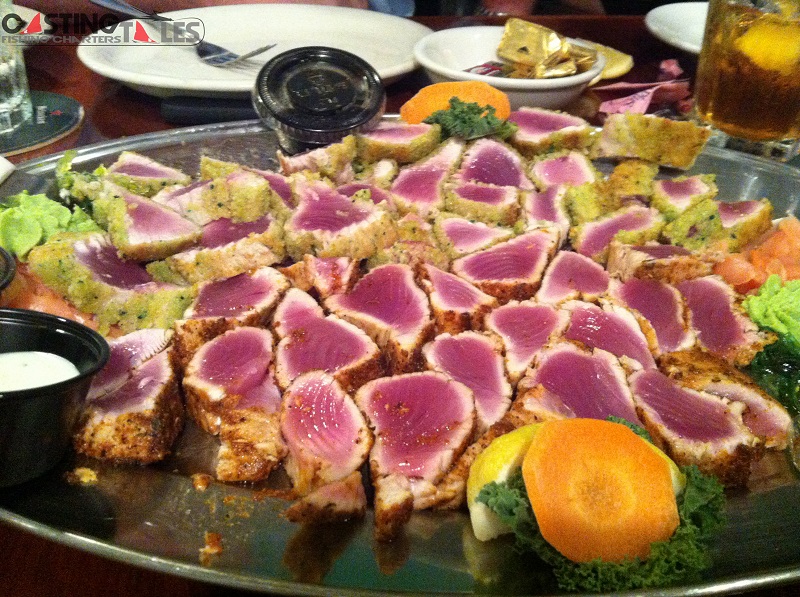 Our main course consisted of our fresh Mahi prepared four different ways. Each way was equally delicious.

Lazy days back porch edition: legs up with a cold beverage in hand. If there's a better way to relax after a day on the water nothing comes to mind.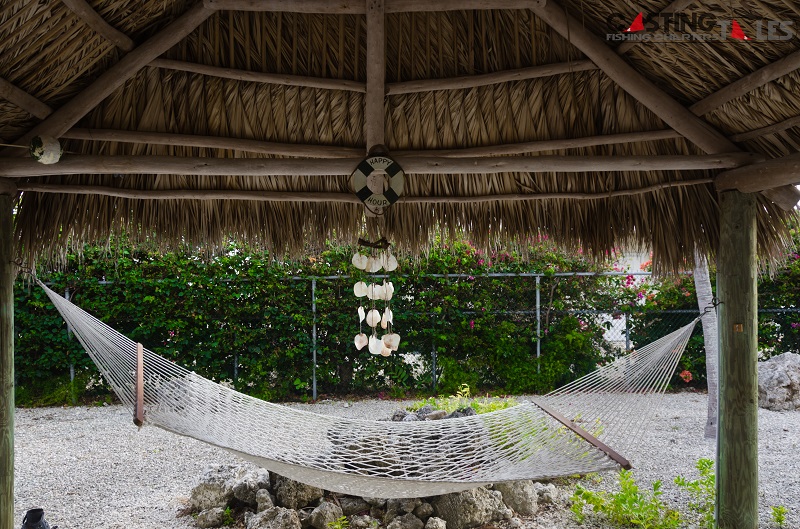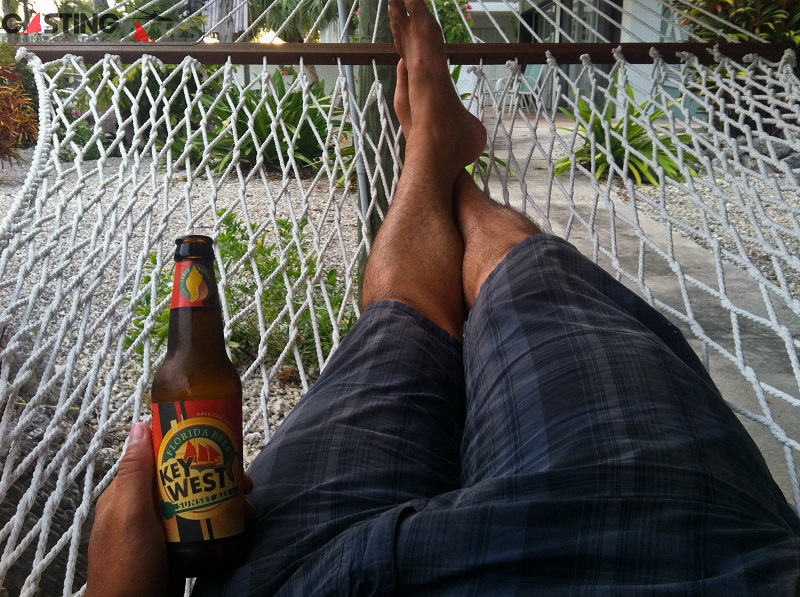 Keys décor…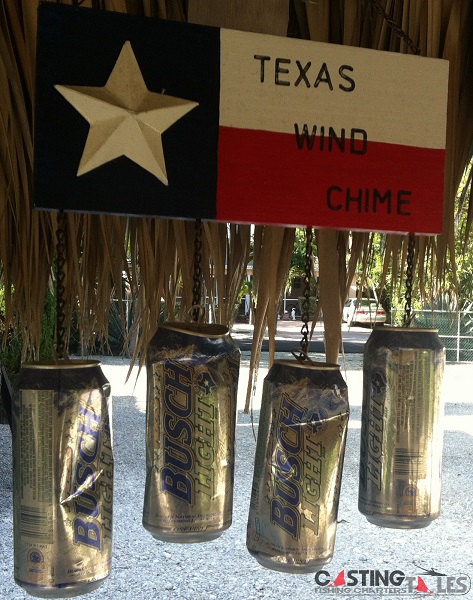 After a couple days in bluewater I was ready for a change of scenery. The backcountry flats and it's skinny water inhabitants were calling my name.
The following day I got the opportunity to fish with fellow SWC Ambassador Chris Lewis, aka Tex. Chris graciously spent most of the day atop the poling platform watching me blow shots in every way imaginable. He worked hard to put me on fish, but I couldn't make the most of my opportunities.
I'm all too familiar with the guest-host relationship and the added pressure it places on the host to produce. Fed up with my lackluster results I convinced Chris to switch me places and spend some time on the pointy end of the boat. As soon as he jumped off the platform and grabbed his rod from underneath the gunnel I spotted a pair of unfamiliar objects moving carelessly down the mangrove shoreline ahead. I called out the shot to Chris still not quite sure what I was looking at.
We quickly determined the UFOs (unidentified finned objects) were tripletail. They were closing in fast. Chris hurried to strip line off his fly reel before the fish became aware of our presence. He fired off a cast in the path of the moving fish.
The larger, lead fish (the fish Chris never saw) quickly tracked down his fly and ate. Surprised, he quickly set the hook. The hook failed to achieve any penetration.
He fired off another cast as the fish moved past the skiff. He fooled the smaller fish with his offering. This time the hook stuck and the fight was on. Chris landed his first triple tail on fly.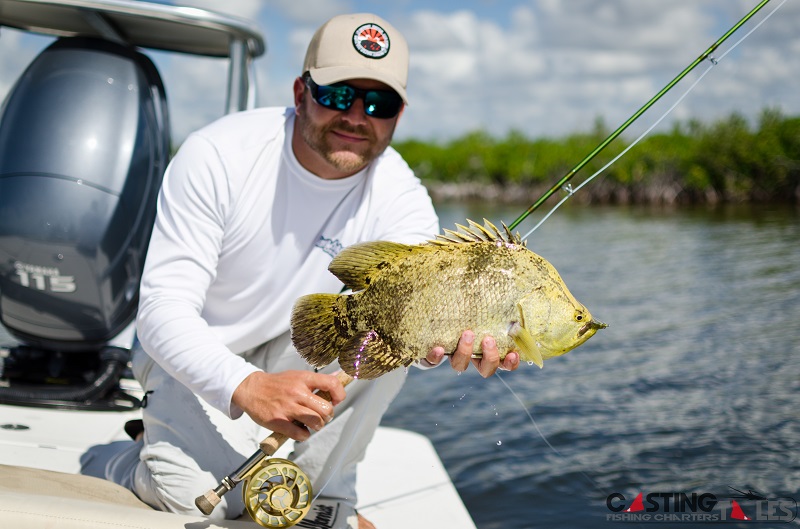 I spent the next few days exploring the Keys alone aboard my skiff without much luck except for a few blown shots at bonefish and tarpon. The scenery made up for my lack of success.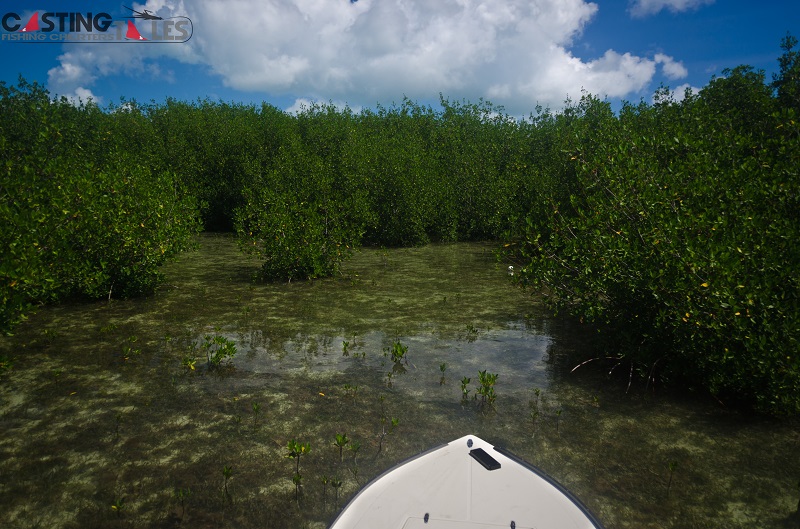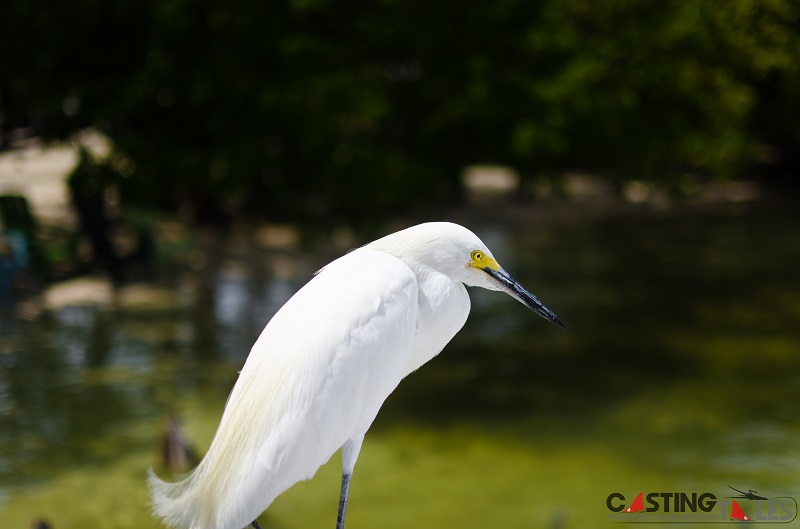 Islamorada sunset…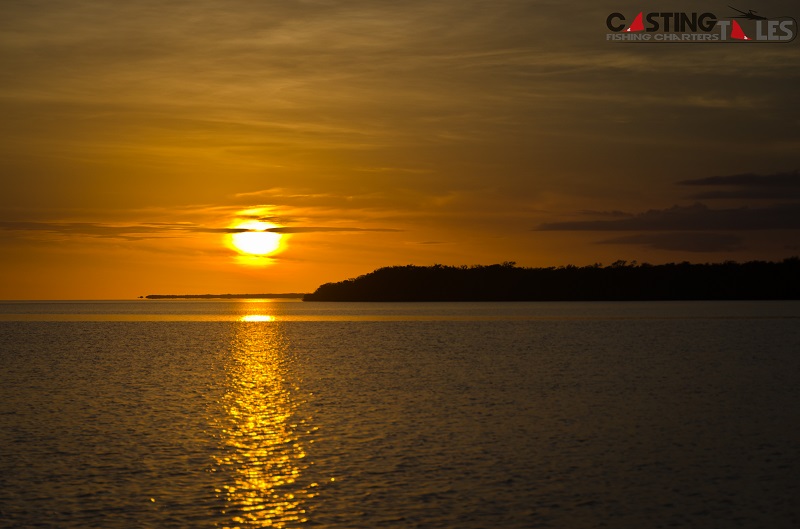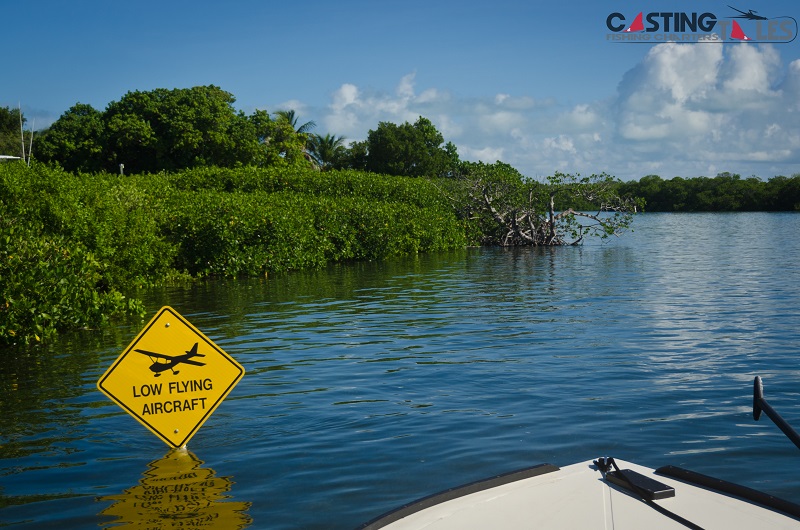 There were plenty of schoolie jacks on the flats.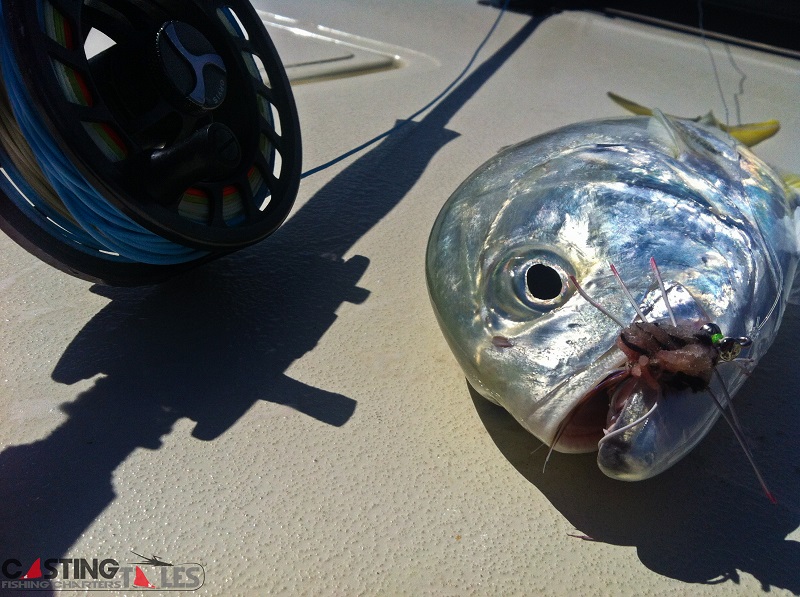 Glassed out day in the Keys.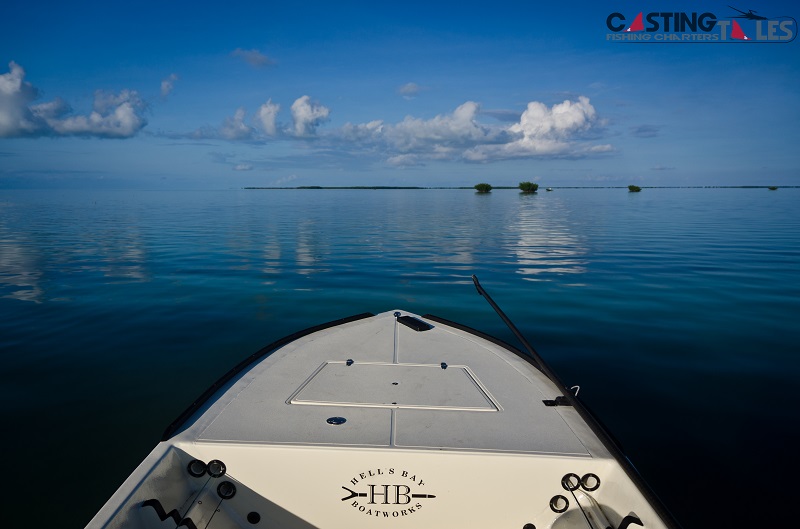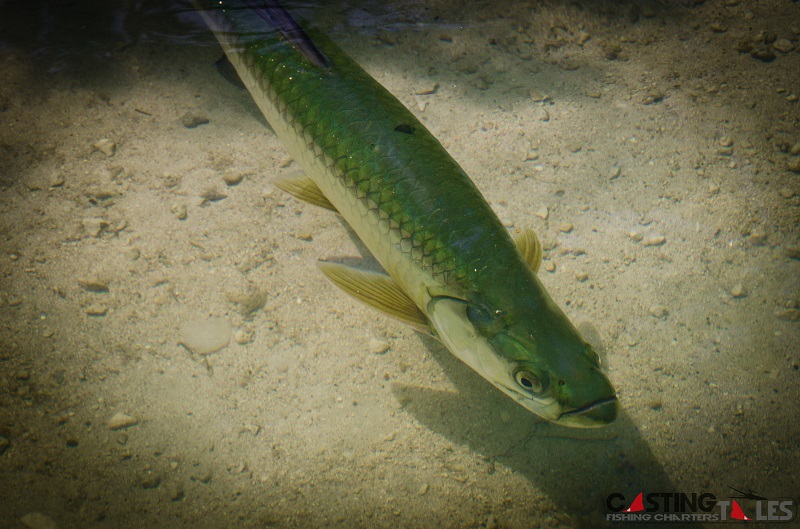 Bedside tying station…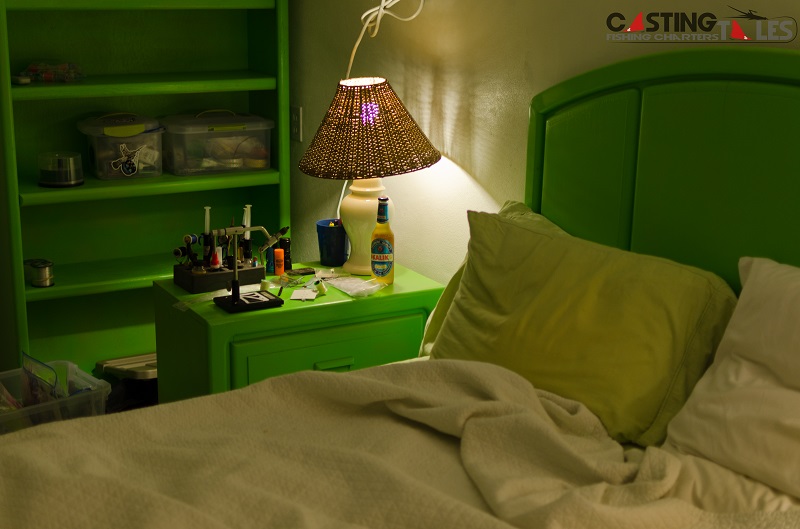 to be continued…