In fishing, there are not many things that pique my interest more than exploring new areas. I get tired of fishing the same water, so I am constantly looking for new places to fish up and down entire Texas coastline. Satellite images are a modern-day Lewis and Clark's compass. I spend hours on Google Earth, almost daily, looking for uncharted water.
I love searching for locations you never see on any maps, never hear mentioned or places nobody I know has been to before. There's not a marsh in the state that I haven't thought about kayaking. My GE has thousands of points of interest marked around the Texas Coast including places I have either been to or want to explore. I often joke with friends I could probably sell my GE database for a good chunk of change with the amount of information I have saved. Any bidders?
A friend, Mark, just got a new boat and he wanted to explore some marshes. He gave me free reigns on where we went Saturday morning. I know plenty of marshes that are outside of paddling range that I have foamed at the mouth to get into with my kayak, so I picked one high on the priority list. I showed him the spot early in the week and he seemed rather hesitant. He first questions were: you think there's anything fish back there and you think we can make it back there?
Experienced told me yes on both accounts and that's how I responded, but in reality you don't ever know until you go. I can get a good feel for an area by looking at satellite images but there's certain things you can't tell from a picture. Not many people in the state have seen more water than me, but I have a handful of friends that have been in nearly every marsh known to man, so I started making calls to see if anyone I knew had been to this area. I got a bunch of blank answers. Nobody could give me any concrete information about this particular area.
Mark, still hesitant, decided we would make the trip and check the area out. If nothing else we could run to areas nearby that I fished before. He invited a kayakless friend, Gary, who was going to man and fish out of the boat while we explored the marsh. I rose at 3:45 Saturday morning to arrive at the launch around 5:45 that morning. We were greeting by swarms of blood suckers at the boat ramp. Good thing we had the speed of the boat to shave them away or it would have a miserable morning.
We made the long run to the marsh we planned on fishing just as the sky was beginning to light up. Mark lost track of the channel as we made our way into the first of a series of ponds. The mud rooster tail spewing up behind us was our signal that we were off track and we needed to find deep water quickly. The sludge spout also told us that he better not let off the throttle until we could find a channel. Mark tried to make a hard right turn to get us back on the path we came in, but the boat parked itself firmly in the soft mud.
Great. The first area I convinced him to explore and he already got his boat stuck. Some of the first words out of Mark's mouth were "I knew you were going to get me stuck." Secretly, I wanted him to get stuck. No better way of learning the limitations of your boat than a little harmless trial and error.
If you fish with me enough you'll quickly realize I am never one to lose my cool no matter what predicament I am in. I have experienced a lot on the water and I don't sweat the small stuff. I have never once been in a situation where I felt my life was in danger. Some mistake my lax attitude for arrogance but I am no dare-devil nor do I think I am indestructible. I can process a situation swiftly and tell whether any real danger exists. Worst case scenario we would have to wait a few hours for the tide to come up, which gave us ample time to fish. I planned on spending more time than that back in the marsh anyways.
"Good luck getting back to Galveston by 4:00," were the next words uttered by Mark. He was referring to my plans to meet up with some friends back in Galveston later that afternoon. Mark and I had our kayaks on board so knew I could make the two-hour trek back to the launch if necessary but until then there was marsh to explore.
I threw my kayak overboard as we started to assess the situation. I started paddling around looking for a channel and found one on the north end of the lake. I paddle over the area that we just ran through and there wasn't enough water to cover my knuckles with my hand perpendicular to the water. I had trouble paddling my kayak in most of the area he just ran through before getting stuck. I guess his boat can run pretty skinny as evidence by the newly formed channel with adjoining spoil banks, dredged and deposited by the propeller on his Suzuki outboard, that protruded above the surface.
While Mark and Gary sat on the boat wondering what do next I decided to push deeper in the marsh to see if I could find some redfish. As luck would have it as soon as I rounded the corner I started spotting backs. I phoned back to relay the good news but they were busy pushing the boat to deeper water. As soon as I hung up the phone I had a pod of backs busting up bait swimming in my direction. I tossed a TTF Flats Minnow in blackened chicken, a new dirty water favorite, into the mix and my rod doubled over immediately. I landed a healthy slot redfish.
I readied my fly rod for action as I worked the area over. A short while later I proceeded into a larger nearby lake. I paddled toward the south end of the lake to make a long drift across the middle of the lake with the wind at my back. About halfway to the south end of the lake my fly that was dangling on the surface feet from my kayak got stuck on something behind me as I was paddling. I reached around and grabbed my rod and discovered I was not stuck. Something had eaten my white shrimp fly behind me and it was now tearing drag off my reel.
My first thoughts were alligator or gar but a couple of hard runs convinced me it was a big red. After a few minutes I finally subdued the hog that measured just over 29" and weighed 10.5lbs; my heaviest redfish on fly to date. I have caught a few fish that were longer but none as heavy as this fish. The fish had nearly 20 spots total and a belly that would make Homer Simpson proud.
After landing that fish I left that lake and met back up with Mark and Gary. They were able to push the boat back to deeper water with little effort not long after I left. We decided to go explore another area within the marsh we were in. This time Mark followed my lead and ditched the boat and Gary. We covered a bunch of water and spotted plenty of reds blowing up on bait fish all around, but there was too much bait in the marsh.
There are not many marsh systems I have been in that had more bait. There was shrimp, shad, mullet, and crabs all around us. We caught bait on hooks while working our lures, we had bait jump in our kayaks, and bait scattered every time we paddled through an area. All we could muster up was some lost fish, missed opportunities and a few gar. The gar were almost as thick as the redfish and I even confused a few in the dirty water and sight casted to them thinking they were reds. We spent the rest of the day running around and exploring a few other marshes nearby.
A new spot with a world of potential to put on the list of places to revisit.
Heaviest Fly Rod Red…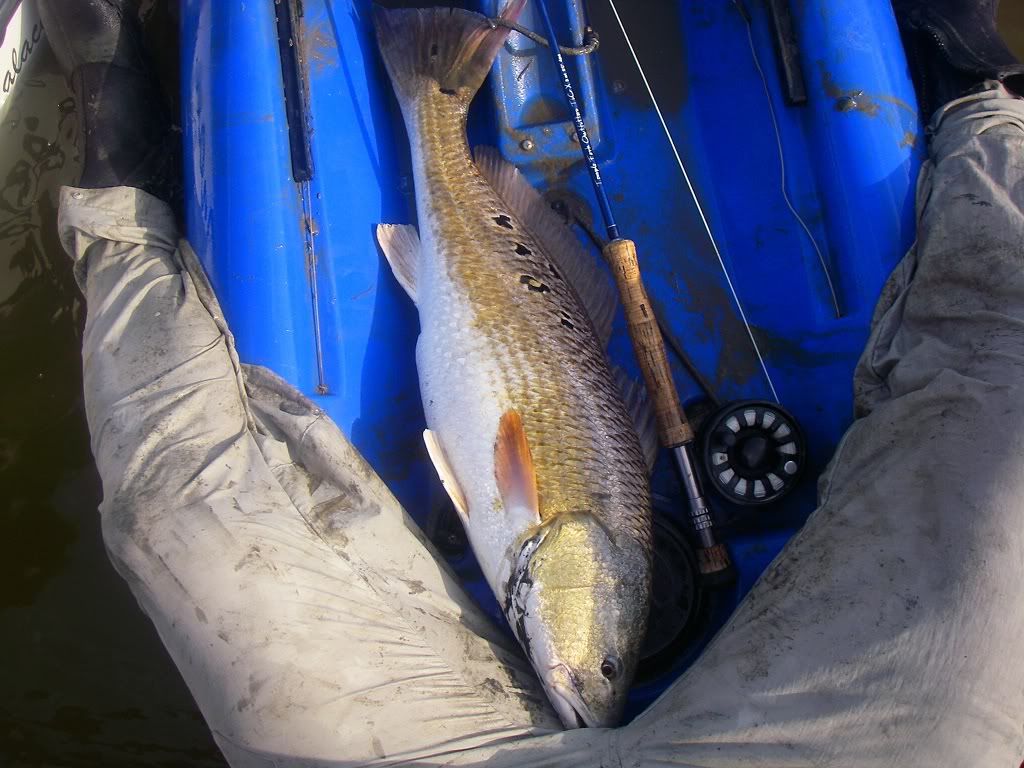 Big Gar…

Too shallow…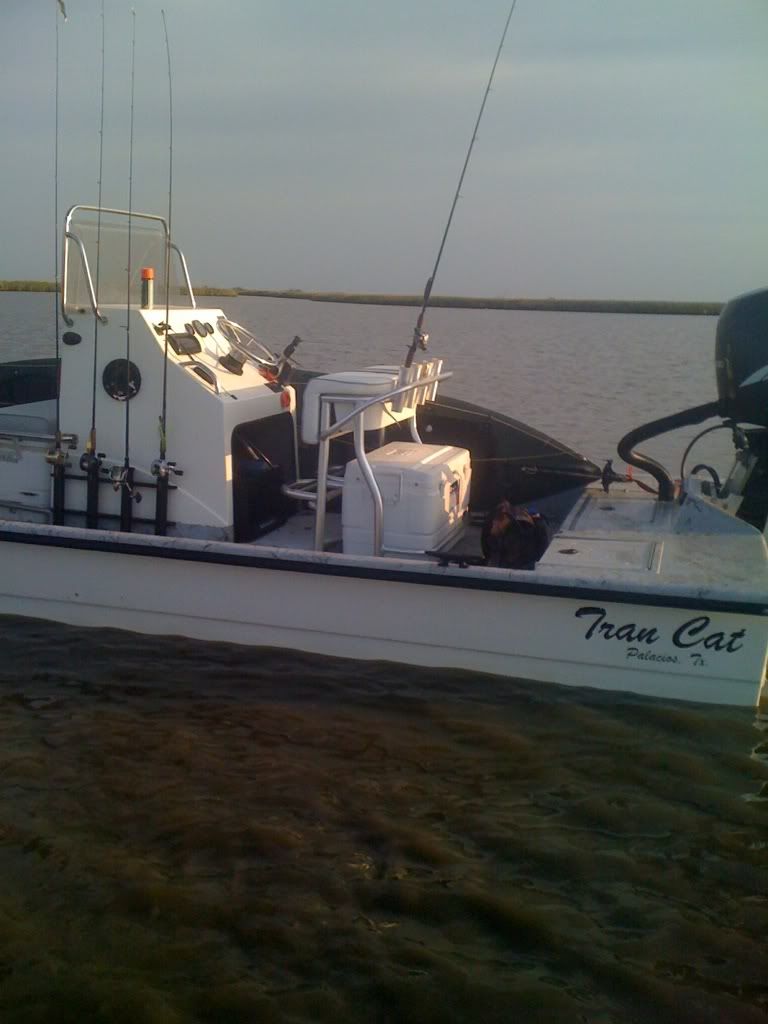 I was able to make it back to Galveston that afternoon to meet up with Brandon and Anthony. We did a test run in Brandon's offshore boat making sure everything was functioning properly. I can't wait for summer; pelagic species on the buggy whip await. After we docked the boat we noticed plenty of big sheepshead up on the surface feeding off the barnacles on the docks. They wouldn't touch a shrimp pattern but as soon as we tied on a crab we got bit. We put a hook in at least a half dozen but only landed one due to break-offs and pulled hooks. I was lucky enough to hook one and it ran away from the docks into open water. Steady pressure kept the fish away from the docks.
First Texas Permit on the Fly…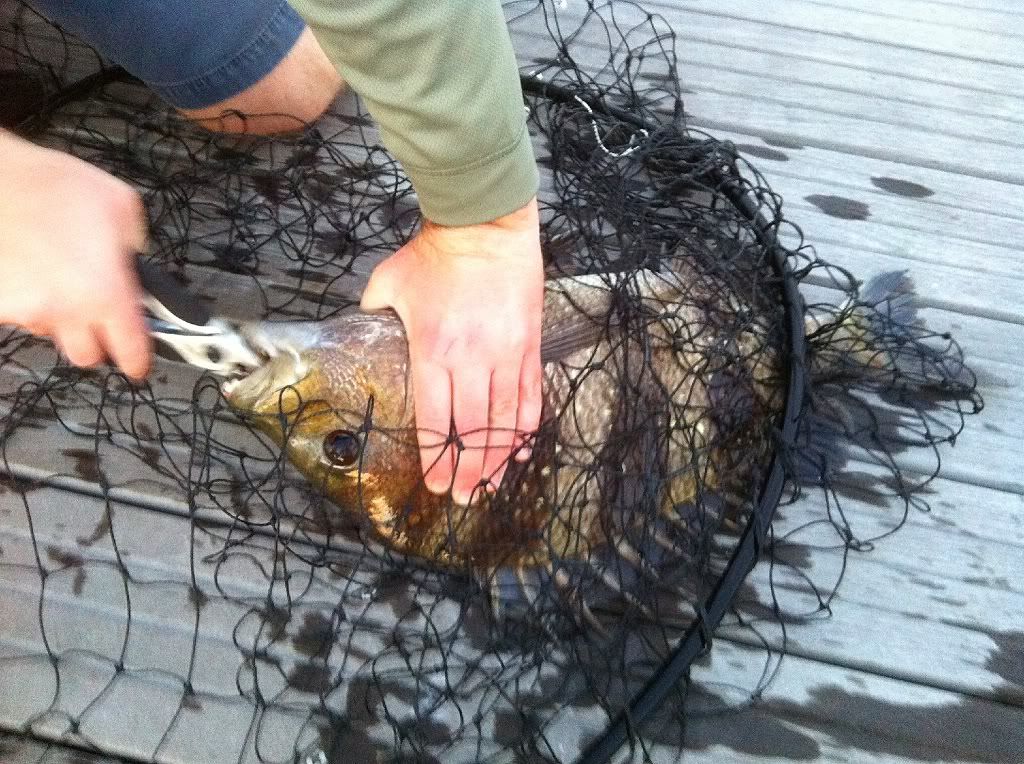 White grass shrimp…

Crab pattern that tricked the sheepshead…