I have been out several times since I last posted a fishing report with varying levels of success. I hit several locations including areas in East Bay, West Bay, and spots as far west as Freeport. Fishing has gone from good last week to downright slow early this week even though I've seen good numbers of fish at every location.
I'm not sure if it's the full moon, the wind, the pressure, the tide or some other factor but fishing has been tough as of late. Judging by what I have heard from others and reading reports it seems that others have experienced the same lack of success lately. Hopefully this front that's going to pass through later this week triggers the fish back into feeding mode.
I've also noticed that tides have acted uncharacteristic as of late, which might be part of the reason for the sluggish bite. Even though there has been plenty of tidal current there hasn't been very much vertical water movement, which has made the marsh fishing challenging. The higher water levels has scattered the fish and allowed them to roam areas where they haven't been able to reach in a while. I saw fish in places the last few trips out where there had been little or no water the last couple of weeks.
Last Wednesday, Chris and I fished a marsh with scattered shell at low tide with a strong incoming tide all morning. We struggled early even though we spotted numerous redfish tailing over shell beds. The water clarity was excellent to start the morning, which made the fish weary of our presence. We spooked numerous fish before we started to get bites. The fish were reluctant to hit a topwater early, so we switched to soft plastic paddle tails to entice bites. I was throwing a TTF Flats Minnow in liquid shrimp.
After catching a couple of fish on plastics, I tried to lure a few fish into eating flies, but I failed to get a hook-up. About mid-morning, after the water levels rose and the water clarity deteriorated, we started blindcasting with topwaters and the bite was fairly consistent for the remainder of the day. Chris was alternating between a she-dog and a badonk-a-donk and I was throwing a Skitterwalk; as typical with topwaters color didn't seem to matter. We ended the day with about 10 reds to 26".
Friday was a memorable day on the water and one of my best sight fishing days of the year, but I experienced two misfortunes. The first happened before I even arrived at the launch. I forgot my gear bag at home, which contained my hat, buff, sunglasses, and camera. Not only was I not able to take any pictures or video but my face and neck paid for the long hours I spent out on the water.
I managed to pick up a handful of trout and a few small reds early on a paddle-tail. Once the sun peaked higher in the sky I moved into the marsh and started stalking reds. I picked up two slot reds to 26" on the fly and two slots reds to 25" on a paddle-tail out of small pods early but the fishing slowed down as the water level dropped out almost completely.
Because of the low water I was having a hard time maneuvering through the marsh so I started to look for deeper bayous to see if the fish were concentrated in these areas. Sure enough, I started to spot numerous reds in or near deeper drains within the marsh. Many of them were rummaging for an easy meal on nearby flats with their backs out of the water or just beneath the surface, which made them easy targets.
This is precisely when I experienced my next misfortune. I somehow managed to snag the spartina on a back cast and broke the tip from the forward force of my front cast, my second broken fly rod since August. Just as I found the fish and had sight fishing opportunities my fly rod broke. I switched to the spinning rod and paddle-tail combination and proceeding to sight fish to countless redfish.
I ended the day with at least a dozen slot reds to 28" and a half-dozen trout to 20". TTF Flats Minnow in mumply glo and liquid shrimp did most of the damage although I was able to catch a couple of reds on a white grass shrimp.
Saturday, I had plans on meeting up with Greg and fishing but I woke up feeling awful. After attempting to make the drive to the bay I decided to call Greg and back out. The weather was absolutely beautiful all day Saturday and I knew I was going to regret not making the trip but I was in no shape to drive and fish all day. Greg ended up having a banner day fishing for redfish and flounder.
I felt better as the day progressed, so I decided to head out Sunday instead. This is when the fishing started to go downhill for me. Luis and I decided to fish a marsh I hadn't been to over a month. Judging by the pictures from the day it doesn't look as tough as it actually was but we work very hard for the few fish we caught. We covered 12+ miles of water and didn't see very many fish but the ones we did see were pigs. We ended the day with five reds up to 28". One fish fell for a Skitterwalk and the rest came on TTF Flats Minnow in mumpy glo or bone catcher.
Tuesday, I decided to fish for both trout and reds. I started out at a marsh drain on an outgoing tide trying to pick up trout and only picked up two keeper trout and a potato-chip flounder on plastics. I moved into the marsh and covered a bunch of water and spotted a few single reds deep in the marsh. I picked one 26" red on a paddle-tail and had a couple other bites but didn't bring any to the boat. I saw or spooked a fair number of fish but saw hardly any activity all day long.
One a side note there's not much shrimp left in the marsh, so look for mullet and crabs to be the main entrée after the next strong cold front.
7lbs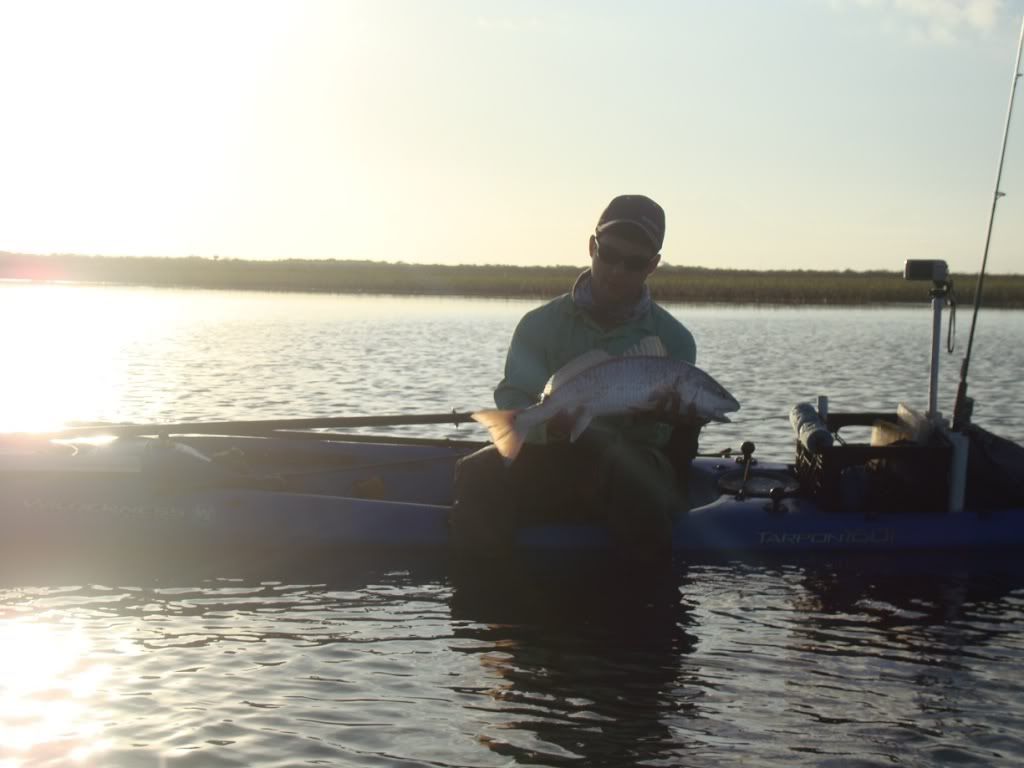 8lbs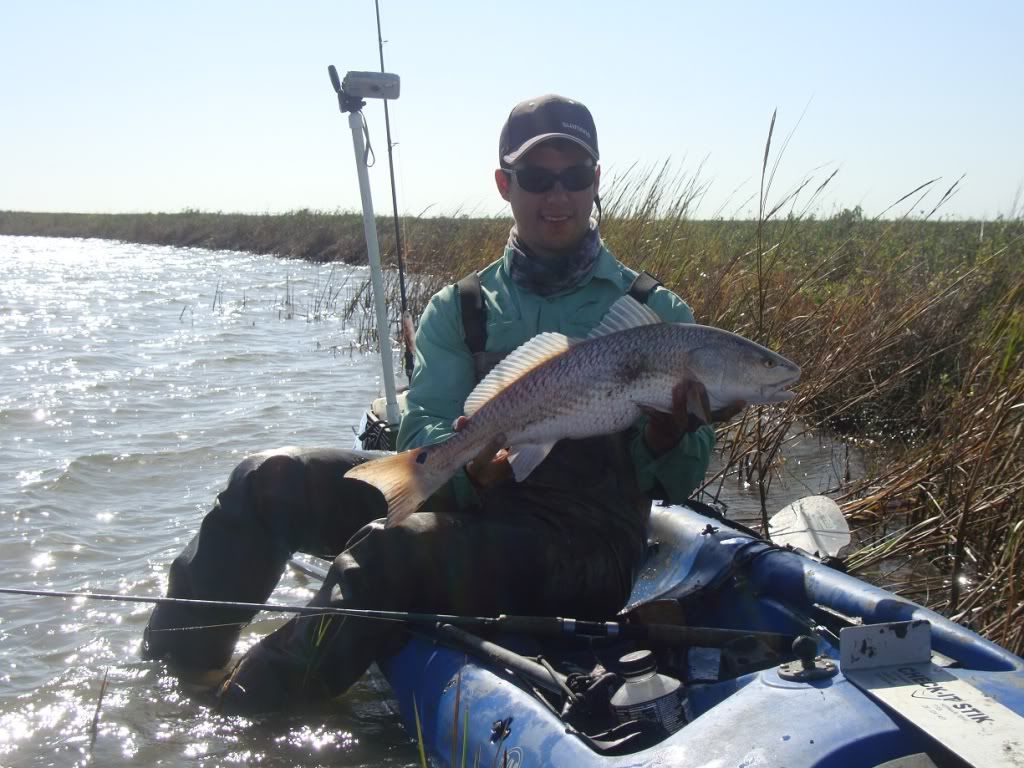 Luis with our combined stringer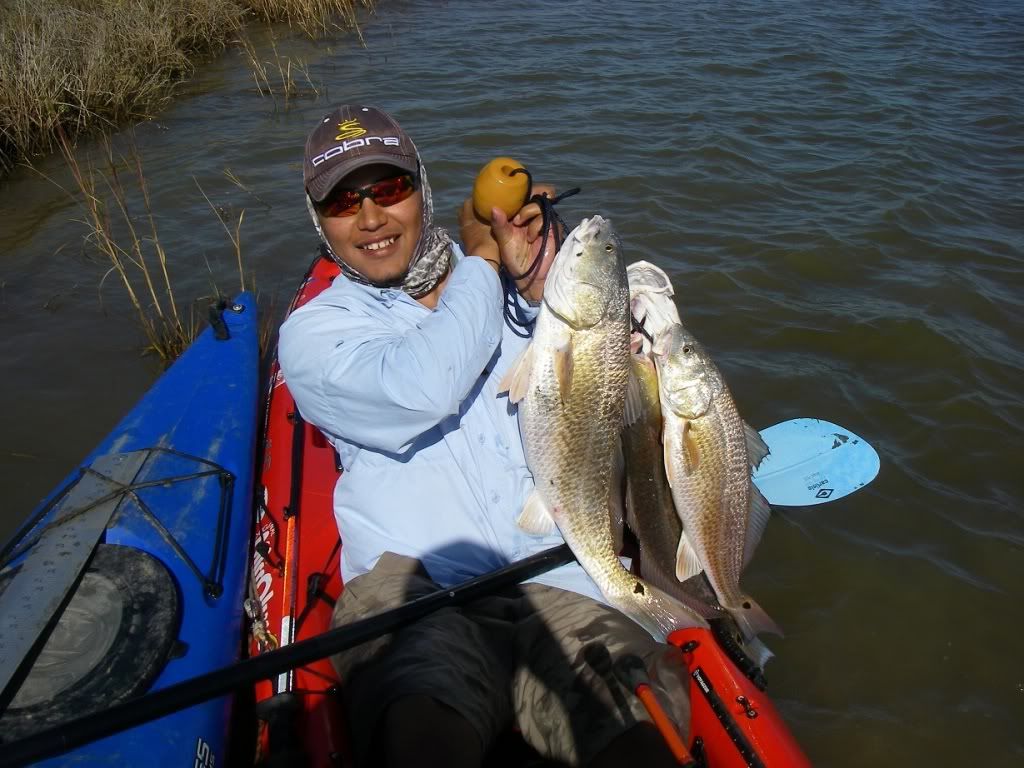 Our combined stringer

30+lbs of redfish